Wagah Border Car Hire Service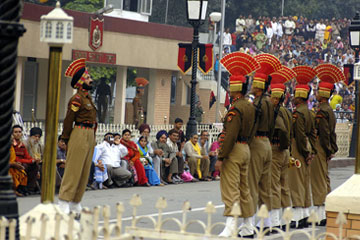 Wagah is a village situated near a road border crossing, Goods transit terminal and a Railway station between Pakistan and India, and lies on the Grand Trunk Road between the cities of Amritsar, Punjab, India, and Lahore, Punjab, Pakistan.
The Wagah border closing 'lowering of the flags' ceremony, or The Beating Retreat ceremony, is a daily military practice that the security forces of India (Border Security Force) and Pakistan (Pakistan Rangers) have jointly followed since 1959.
Hire Car to enjoy the Wagah Border re-treat ceremony, Our Driver will take you to the border where you have to join the parade with other tourists. Ceremony encourages citizens towards our country
Hari Travels is a leading corporate car hire agency in Amritsar which offers chauffer driven luxuary cars to cater the travel needs of corporates. We have Luxuary, Pemium, Economy, SUV, MPV vehicles in our fleet which suits all your travel needs.
We provide cabs on rent at minimum prices and best service for Wagah Border Car Hire. Hire a cab from Hari Travels to fulfill all your travelling needs. Rent it at reasonable tariff and get a luxurious fleet. Hari Travels Cab rental services is the best of its kind services in Chandigarh.